Happy Read in the Bathtub Day!
There's nothing like a long, leisurely soak in a hot bath. Add bubbles, a book and something to drink, perhaps a glass of wine, or maybe a cup of cocoa, and it becomes heavenly. Read in the Bathtub Day is the perfect occasion to take part in this relaxing past time. So what if you spend so much time in the tub, your toes end up shrivelled like prunes? It's the reading in the bath that counts.
Reading in the bathtub works much better if you have more than one bathroom. I mean, you don't want people pounding on the door to get in. You want to be able to relax and spend as much time as you wish, soaking up the hot water and bubbles, and the prose you've chosen as your reading material.
To properly enjoy Read in the Bathtub Day, you should have a caddy for your tub. After all, you don't want to drop your tablet, or heaven forbid, a physical book in the water.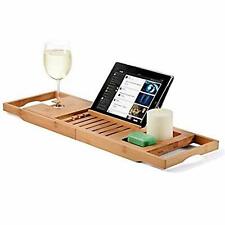 These caddies come in all shapes and sizes – in bamboo, teak, stainless steel and more. Some are fancier than others like the one above, which also has a place for a wine glass.
So why not buy yourself a book (preferably one of mine), run a bubble bath and pour yourself a glass of wine (or your tipple of choice) and escape for some self-indulgence.
Not sure which of my titles you fancy? Click on any of the images in the sidebar and you'll be taken to your amazon store where you can read the decription and, if you so choose, purchase the book.
Sorry for the shameless self-promotion. It's a dirty job, but someone has to do it. 🙂